Baltimore Photographer | Freddie Gray and Baltimore's Unrest
May 29, 2015
For the last week I have sat here at my desk trying to start this blog post. My words don't come. My eyes well up with tears and my stomach turns into mush. But this morning after watching a video of a child, a little boy who appears to be the age of one of my own children call a grown man a horrible word I felt compelled to write this finally. As Missy MWAC says, "I'm taking this way down…"
On April 19, 2015 Baltimore would change with the death of one man. A man that if you read the comments of any news that reported you would think murdered newborn babies. That man was Freddie Gray and you can learn more about the timeline of his arrest and death from clicking his name. It will take you to a NY Times article.
I am all for using your voice to speak up against ideas, actions, or events that you don't agree with. I myself have protested against whaling and am very against animal cruelty and animal testing. With racial tensions already running high since the death of Michael Brown in Ferguson, MO and Eric Garner last year I had a bad feeling that something big was about to happen in Baltimore. And it did. On April 23, 2015 a peaceful protest was started at the sight of Freddie Gray's death to City Hall but it ended up in violence outside of the Baltimore Oriole's stadium where several storefronts and police cars were damaged. What sparked the a peaceful protest where voices needed to be heard to turn into chaos? It's unclear. But it didn't stop there. On Monday, April 25, the day Freddie Gray was laid to rest, Mondawmin Mall a mall I frequented as a child began a week of protests, arrests, an imposed curfew by the Mayor of Baltimore City and the National Guard being brought it to help bring back the peace. Pennsylvania Ave. in West Baltimore was all over the news. I admit that I watched all of this as much as I can and the photographer in me was screaming that I wanted to get there and witness everything for myself. I wanted to photograph these moments in history that I hope will never be forgotten. There are so many photographers that captured some amazing and powerful images. But I wasn't one of them. I had to stay home with my children. My husband was traveling for the week and I had no one to watch my kids.
The idea for this session came about from a few things. One, my son who is in the photographs, comes home daily telling me that he's called a racist and told that his family owned slaves.  We've talked about what the definition of racism is. We've talked about the history of racism (my husband loves history) and slavery. We've talked about the Civil Rights movement. We've talked about everything that we possibly can with him so he can be prepared when he walks out the door and is confronted with hurtful and inappropriate words and actions of others. My son is nine years old and already feels like he has to carry the weight of the world on his back. The second reason this session was born is because of people's comments on social media and online news sources. The words to describe how I feel towards people commenting on both sides escape me. It makes me sad that people dislike each other based on their skin color. Just this week I saw a video on Facebook of a little boy no older than seven years old laughing and calling a grown up the N word. He looked like he was so darn proud of himself. I'm not linking it because I do not support it or hate speech.
I've been asked what the meaning behind the session is. I have my meaning of the session but I want you to interpret it for yourself. I want to say thank you to Evelyn and Andre for allowing your son to be part of my vision. He was great to work with. I hope you enjoy the photographs!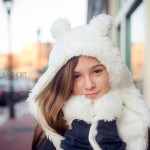 Previous post Baltimore Child Photography | The Tween Session
Next post Fells Point Lifestyle Newborn